What a day was that…
Rain was falling with terrible rage on Parnassos mountain, sleet watered every inch of land.

The icy mist had come down very very low.

I just kept driving, I could not get out of the car.
 When I could, I was located in the south of the mountain, in Davlia village. The rain had stopped.
It is a nice village with a charming square, with few old houses and with a historical name : the name of an important ancient city, called Davlida …
 The military map shows some ruins of that ancient city. It did not take me long time to find them .
They are located on a steep hill with awesome views , surrounded by a magnificent grove of cypresses and pines , south of Davlia village. These are the remains of the acropolis of ancient Davlida . I can see Pelasgian walls and some towers among oaks , pines and dense vegetation.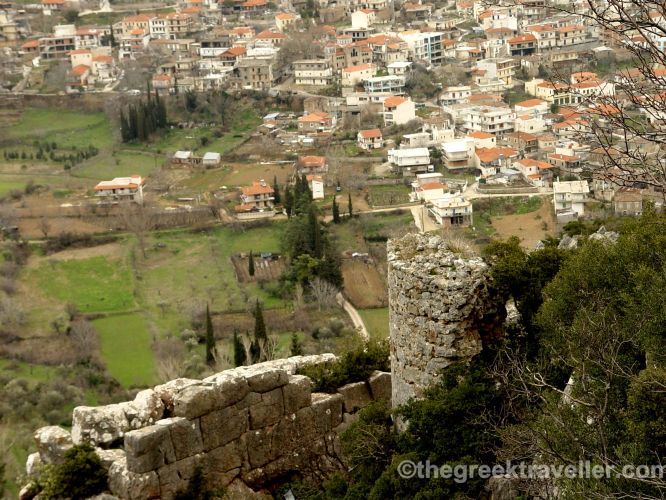 I struggled to find them all though. Nature claims them very much, the ancient stones look like sinking through the dense trees and shrubs year after year.
 After the defeat of the Greeks at Thermopylae the ancient city was destroyed by Xerxes along with other cities in the valley of Kifissos River. It was rebuilt but it was destroyed again by the Macedonian Troops of King Philip II.
Among the ruins there are foundations of a small Christian church. These I could not find. You might wonder what I was looking at the ancient city? Oh well, I wanted to see the scene of a very brutal murder . Which is described at the pages of ancient Greek mythology. And as you can read below, those pages are dark…


Behold !


King Tereas with his wife Procne, (she was from Athens ) and their son Itys  lived in ancient Davlida. Once, when Tereas  came at his  father 's in law house,  in Athens , he saw his wife's sister Philomela and much liked her. Because Tereas was a little womanizer . Ah, of course …

 So he deceived Philomela to come with him in his palace. Then the awful king raped her and cut her tongue, so not to testify anything to her sister Procne ! Just in case he imprisoned her in his palace in Davlida city!
 Terrible things…
Philomela managed to communicate with her sister embroidering her sad story in textile . So Procne read the terrible events in embroidery and shuddered with the outrage ! And now look what both the furious sisters, organized to avenge the rapist king.
 They massacred his son, the young Itys (remember that Procne was his mother ! ) and as if that was not enough they cooked his body and served  it to Tereas for dinner !
 What a truculence …
 The unsuspecting king saw the food and started eating  ( the legend says that he ate enough because he found it a very tasty dish!).  And then, having had enough food, he saw suddenly the head of his son between the sauces and he was shocked .
 He realized what horrible dish they cooked and he started chasing the two murderess sisters along  the palace with a halberd to kill them .
 Neither the gods of Olympus could stand such atrocities. Sickened by the horror in Davlida they transformed king Tereas in hoopoe , Procne into a swallow and poor Philomela in nightingale .
To tell you the truth … before leaving the ancient city I heard through the cold mountain breeze a nightingale singing near the grove of ancient Davlida .
Poor Philomela what a bitter story was yours…
End of the myths though…
I thought  better going back  in the village, in Davlia in a shop called " Philomela " ( it s the name of ecotourist association of the village's women) to get some nice blackberry jam to sweeten myself.
This shop also is all that it keeps the memory of this sad legend in the village today.
 


Where I am?
Davlia village is located at the southeast slopes of Parnassus mountain . The best way to get there is by car, following the main road to Arachova village and then turn north.
An asphalt paved road ends on the hill of ancient Davlida. From its end, with ten minutes walk , you reach the hill's summit , where the ruins of the ancient city are .